Amazing Muscle BCAA Dietary Supplement – 3:1:2 Branched Chain Amino Acid Ratio – Net …
Sold & Shipped by Vitaminshub Free shipping | $30.00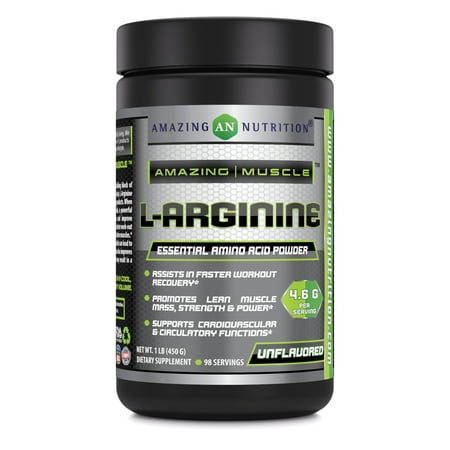 Disclaimer: While we aim to provide accurate product information, it is provided by manufacturers, suppliers and others, and has not been verified by us.
See our disclaimer.
.
SUPPORT FOR MUSCLE GROWTH Branched chain amino acids have been clinically shown to decrease muscle loss during workouts to encourage muscle growth, making BCAA amino acids an important part of sports nutrition.
  AN OPTIMAL BLEND Our BCAA powder has a 2:1:1 ratio to give you more leucine and generous servings of isoleucine and valine, making our formula the best BCAA to choose for a balanced blend of BCAA nutrients.
  THE BEST BCAA POWDER Our amino acids BCAA powder has a delicious Blue raspberry flavor that makes it a delicious, nutritious treat  SIMPLE TO USE Our branched chain amino acids powder is easy to use when you are at a gym or on the go; because it is easy to mix and dissolves fully.
  QUALITY YOU CAN TRUST All Amazing Muscle products are proudly made in USA in accordance with Good Manufacturing Practices (GMP), among the highest standards in the world.
All our products are Third Party Tested.
We do not compromise on quality.
  You work out to gain muscle mass, not to lose it! Unfortunately, many people unknowingly suffer from muscle loss during intense workouts.
When you work out hard, your body may begin to burn muscle cells as a source of energy, undermining your efforts to grow stronger and increase muscle size.
The good news is that there is something you can do to decrease the risk of muscle loss during workouts!  Branched chain amino acids leucine, valine, and isoleucine may help to minimize muscle loss by supplying the body with a source of energy during workouts.
It's easy to add these BCAA amino acids to your diet with Amazing Muscle BCAA Dietary Supplement!  Our BCAA supplement helps with: –          Encourage lean muscle mass development* –          Supports recovery after exercise* –          Enhances performance and –          Boosts endurance *   It can be used in shakes, smoothies or blended drinks  Protect yourself from muscle breakdown and accomplish more from your workouts with Amazing Muscle BCAA Dietary Supplement  The Amazing Muscle Difference  All Amazing Muscle Products are manufactured in the USA at a GMP certified facility.
As part of our commitment to quality, we only use ingredients from suppliers that meet our stringent Quality Assurance Standards.
Amazing Muscle provides you a range of premium quality products to achieve your bodybuilding goals.
Every product is subjected to countless quality tests and assays throughout the manufacturing process to verify purity and full potency.
WORK TOWARDS ACHIEVING YOUR DREAM BODY WITH AMAZING MUSCLE!!! .