Just want to say…I researched power towers quite a bit. Every review I read on something like Amazon had these fabricated product reviews from peeps who were paid to do it. You'd see a bunch of 5 stars, then a 1 or 2 star reviews slamming the product. Since there weren't many of those for the Golds Gym pt on Walmart, in fact, I don't think any at all, I went with it… although I did doubt the reviews. I purchased the product online and did the sitetostore thing, so I didn't have to pay the extra 60 to have it delivered to my house. I would totally recommend this, since some people talked about how horrible the packaging was. The product was shipped to my nearest Walmart days before the expected shipping date, and when picking up the product, there were no holes, rips, or problems with the box. The box weighs like 100 pounds, but I managed to get it up my apartment stairs by myself. Also, don't really need a truck to pick it up, I have a 2000 Camry, and managed to wedge it far enough in the trunk to tie it down and drive it home. There were no parts missing when I opened it up either, so definitely do the sitetostore thing, regardless of how lazy you are. Thankfully, I am super pleased with this purchase. It has far exceeded my expectations. It's stable and gets the job done at a super low cost compared to other brands. Some words of advice…put it together on a hard surface like tile or hardwood, not your carpet, so that it's balanced and won't wobble. The dip bars juggle a bit, but they're fairly stable for my 6'1″ 220 lb body. Make sure to read the instructions…don't tighten the thing till like step 7 when the instructions say so, and you may want someone to help you for the first few steps. Also, I noticed, try to tighten every bolt the same, and don't over do it, or it may cause a minor off-balance. I actually did this and after loosening some bolts it stands perfect. It's fairly easy to put together, but get a socket set and it's even faster. I tried first-off with a wrench and screw driver like the directions said, then busted out the socket set (since only like four bolts require a screw driver, the ones for the backrest) and it went up super quick. I bought this product to use with my newly purchased p90x program and it's awesome. Compared to other brands, and considering the price, it's about as good as you can get. The welds seem strong and the structure doesn't tip doing the workouts I have done. It also comes with a workout chart that suggest simple exercises that can be done. Overall, super satisfied and great product. I would recommend it to anyone searching for one of these things.

Gold's Gym XR 10.9 Power Tower
$113.07 | Sold & shipped by HayneedleReturn policy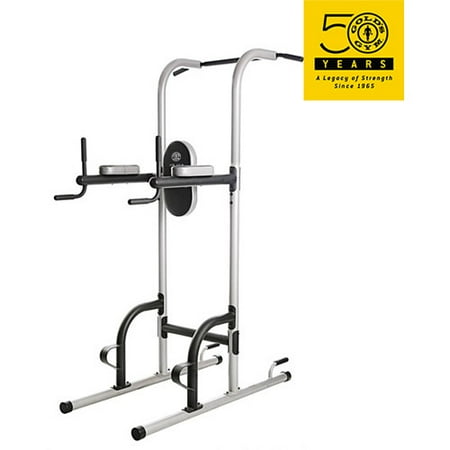 Disclaimer: While we aim to provide accurate product information, it is provided by manufacturers, suppliers and others, and has not been verified by us.
See our disclaimer.
Push, pull, and lift your body to perfection with the Gold's Gym XR 10.
9 Power Tower.
The vertical knee raise station will help you add definition to your abs.
The push-up station has padded hand grips so you can stay comfortable while you work out.
The multi-grip pull-up station will help you build stronger arms and the dip station will work on your triceps, chest, and shoulders for incredible upper-body strength.
Gold's Gym XR 10.
9 Power Tower: Vertical Knee Raise Station Step up and discover your inner six pack with the comfortable vertical knee raise station.
Push-Up Station Get the most out of your push-up workout with these padded, push-up hand grips.
Multi-Grip Pull-Up Station Get a grip – wide, narrow, side-to-side – and build better, stronger arms with this multi-grip pull-up station.
Dip Station Build triceps, chest, and shoulder muscles along with incredible upper-body strength.
Model #: GGBE0969 Warnings: California Proposition 65 Warning: WARNING: This product may contain chemicals known to the State of California to cause cancer andbirth defects or other reproductive harm.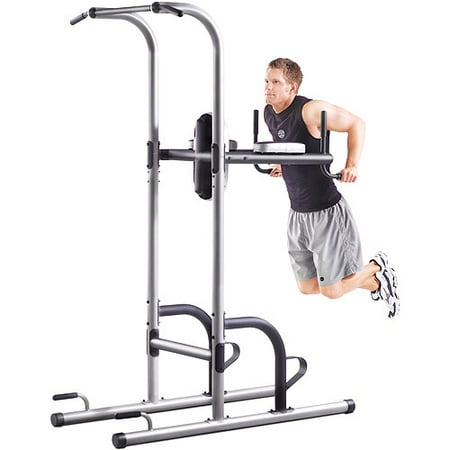 I read reviews on several pull up / dip stations and found this one to be the lowest price and a sturdy unit. I was not disappointed. It did take a couple hours to put together but it's solid and at 200 lbs it doesn't move when I do pull ups. I like the fact that the pull up bar is full length and allows for multiple hand positions as I'm doing the P90X workout program.
Get The latest Gold's Gym XR 10.9 Power Tower Review Here
We were concerned about the stability of the equipment due to the price. We were pleasantly suprised how good the quality is. It was not too hard to assemble and fits our needs for pull ups, push ups, reverse dips and more.
I traded in a power tower that I received as a gift from Dicks for this one. I put it together my self and assembly was straight-forward and took about 45 minutes. Post-assembly- The unit works flawlessly. It is stable on the floor and does not come off the ground. It's stable enough that I'm able to do inverted sit-ups hanging from my knees on the pull-up bar. I'm 6'4 so I have to bend my knees with this power tower on pull-ups, but I've found that I have to do that with any pull-up station I use. The foam on the tower is more of a butyl rubber and seems like it will remain durable, But I've only had the unit a few weeks. Grip remains tactile even when sweating. When using the dip station, there is some flex, but I weigh 220 lbs and I feel flex even in other consumer-grade towers with supported arms. The steel seems to be of heavy enough gauge that I anticipate no problems with its durability. If there is any weak point in the unit, It's with the backrest, which is utilized when doing knee raises. I can feel the plywood backer flexing, so there might be some problem down the road, but for the money, this is a very versatile product.